6 Reasons Why Gift Cards Are Better Than Cash?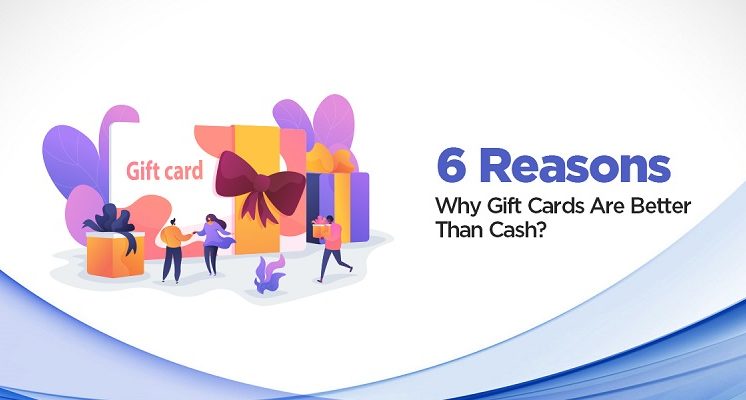 Gone are the days when you could simply put some cash in an envelope and call it a gift! While cash is appreciated by most people, the fact of the matter is cash is well, just that – cash, and nothing else. Quite often it so happens that the person you gift the cash to ends up using it to meet one of their many daily expenses, and 5-10 days down the line completely forget the fact that it was meant to be a gift from your end. Now, isn't that truly disheartening?
Well, this is precisely where Gift Cards come into the picture. Gift Cards retain the convenience that cash offers, while still entailing many benefits that cash simply does not provide when given out as a gift. Today, we examine 5 reasons why Gift Cards are better than cash!
A Gift Card is a Thoughtful Gift
While cash is considered a rather generic gift, a Gift Card can often prove to be thoughtful. Wondering how? Well, if you pick a Gift Card from a specific store or a brand that the recipient surely likes, it shows that you had them in your thoughts while opting for the ideal gift card for them. This simple gesture makes a gift card much more valuable as compared to cash.
Gift Cards Offers the Freedom to Purchase a Gift of Their Dreams
No matter how well you know a person there are times when you simply cannot decipher the things that they desire the most. A Gift Card presents a great solution to this conundrum by putting the ball in the recipient's court. Now, that the recipient knows where you want them to purchase their gift from, they can happily browse through the online store or the physical outlet, and buy what they truly desire. This freedom of choice is sure to make the gift much more cherished for them.
Gift Cards are Extremely Convenient
Okay, probably not as much as a cash envelope! But, remember in order to gift cash to someone, it is crucial that they are right in front of you. After all, it isn't the 70s anymore, and sending across a Money Order is not a feasible option unless you're willing to go to the Post Office and are okay waiting for a week before the money reaches the recipient. Gift Cards, on the other hand, can be purchased instantaneously and directly land in the recipient's SMS Inbox, or Email Inbox within a few seconds' time! Need we say more?
Gift Cards Help you to Curb Overspending
It isn't always that you have a flexible budget for purchasing gifts. More often than not, occasions like engagements, weddings, etc. are usually planned a few days or just a couple of months in advance. Such a small notice might not be sufficient for you to save for an expensive gift. In scenarios like this, Gift Cards can come to your rescue by enabling you to spend only as much as you want to. Since most Gift Cards are available in denominations starting as low as Rs. 50 going anywhere up to Rs. 20,000 you are free to choose the card that suits your budget. In case, the recipient wants to buy something that is a tad more expensive than the value of the card, they can easily do so by paying the additional amount on their own.
Gift Cards Help You Avail Additional Discounts
When you purchase a Gift Card from a renowned and trustworthy website like MeriBachat, you can expect to get a discount of anywhere between 5% and 15% on the Gift Card. Hence, when you present a Gift Card worth Rs. 1,000, you will probably have to spend only Rs. 850! Isn't that simply amazing?
So, what are you still waiting for? Bid adieu to the old and outdated idea of giving cash envelopes, and instead invest in a Gift Card for your loved one. Trust us, they'll thank you for making this thoughtful choice, and truly rejoice in their gift!