Why Do We Celebrate Raksha Bandhan? | What is Rakhi?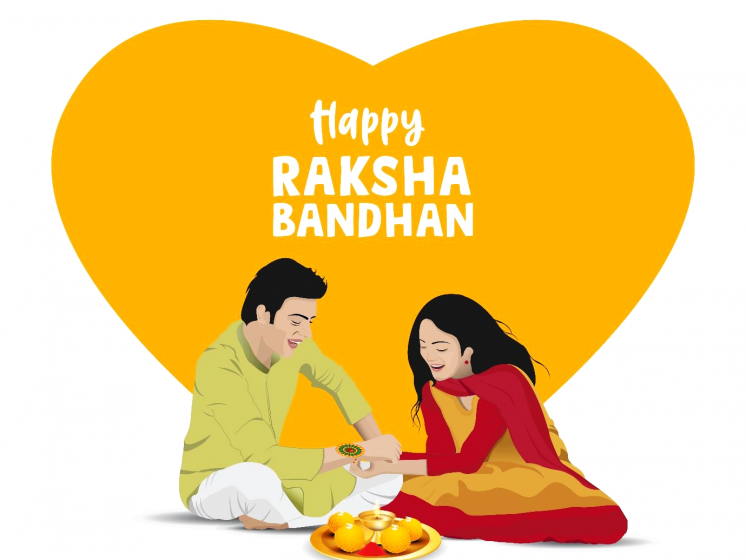 "Raksha Bandhan", popularly known as Rakhi, is a significant festival observed in India that is solely dedicated to the love of the brothers and sisters and to pay homage to the sacred and unconditional bond between them. In Sanskrit, Raksha means "protection" and Bandhan means a bond. It is celebrated in the Hindu month of Shravan, on a full moon day.
1.On this festival, as a ritual, a sister ties a colourful Rakhi, a sacred thread that symbolizes love between the siblings, around her brother's wrist. The brother vows to guide and protect her throughout the life under all circumstances.
2.With this festival, there comes a chance when brothers and sisters cherish memorable moments spent together right from childhood. This makes "Raksha Bandhan" one of the most awaited festivals enhancing the heart-warming relationships between brothers and sisters. Besides this, "Raksha Bandhan" also serves as a perfect occasion to express your sweet gesture, respect, love, affection, gratitude towards your dearest siblings who were always there as a support system supporting your back and holding your hand at every time, in every tough decision and through every thick and thin.
3.This "Raksha Bandhan" every sister must be looking for something special to make her dearest brother feel special, and every brother must have been thinking about how he can make his precious yet sweetest sister smile with his efforts. And thus, finding a perfect gift for "Raksha Bandhan" is considered one of the most daunting as well as a confusing jobs to do.
4.However, we are currently going through one of the most stressful pandemics in the history of mankind. Each day consists of prayers and safety precautions to protect our loved ones and ourselves.
5.But don't worry! It won't be able to affect our festive spirits. Celebrate this "Raksha Bandhan" in full swing without flocking pandemic restrictions and precautions. Let's try our best to celebrate this festive season virtually or by following all the precautionary measures to protect our loved ones and ourselves.
6.The festival of "Raksha Bandhan" is incomplete without gifts as this is a way of expressing our love to our brother or sister and it is obvious that we are counting the ways to celebrate Raksha Bandhan online.
7.But the dilemma of finding an appropriate gift would have obviously struck us at some point. With the vast array of things available both online and offline these days, it is very difficult to predict what someone will like. We might sometimes fail to understand our siblings' choices well enough. To avoid these problems, the best "Raksha Bandhan" gift you can try presenting your siblings is a gift card and put a bright smile on their face.
8.A gift card is a very thoughtful gift which is extremely convenient to redeem and enables your siblings to buy whatever they like from the particular store. This freedom of choice allows them to buy what they truly need or adore and gives you the satisfaction of having gifted well. It also helps you to curb overspending and to avail additional discounts. Not only that! gift cards sometimes can also come with many other perks. One such platform where you can enjoy other perks too along with presenting gift card to your sibling is Meribachat.
9.Meribachat is the only discounted gift card platform that ensures maximum savings on every purchase. Here at Meribachat, we ensure
Hassle-free gifting
Unbeatable offers on top brands
Various festive offers
Unmatched freedom of choice
Earn instant cashbacks
Keep a tab on your savings/earnings
Earn by sharing
10.You can buy gift cards at Meribachat and receive unbelievable discounts and cashbacks. Who wouldn't love gifting their siblings and enjoy few perks for themselves?
11.Meribachat provides a wide range of brands for which you can buy gift cards like Myntra, Shoppers Stop, Lifestyle, Bata, Nykaa, Big Basket, Grofers, Decathlon and many more.
12.Currently there are few brands like Myntra, Shoppers Stop and Nykaa which are India's trendiest fashion and beauty hubs running special campaigns for "Raksha Bandhan" festival.  You can purchase gift cards of these brands and present it to your siblings and watch them burst with joy.
13.Gifting is tricky! But if done right, it can bring you closer to your siblings. So, what are you waiting for? Go ahead and make this "Raksha Bandhan" worth remembering with our gift cards sourced with sheer love.
Last but not the least, Happy Raksha Bandhan!!!